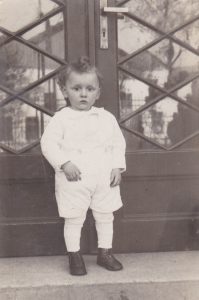 [DE] Józef Lipman, Mensch, Jude, der statt eine schöne Kindheit zu erleben tagtäglich in dem von Deutschen besetzten Borysław um sein Leben kämpfen musste, hat den Holocaust überlebt. Nach dem Krieg ist er mit seinen Eltern nach Wałbrzych (Waldenburg) übersiedelt. In seine Geburtsstadt, die so sehr mit den Erinnerungen an schlimmste Erlebnisse verbunden ist, ist er erst nach 68 Jahren zurückgekommen, begleitet von Aktiven der Aktion Sühnezeichen Friedensdienste (ASF). Seine berührende Kindheitsgeschichte wurde dann Thema in der Ausstellung "Eine Geschichte von Vernichtung und Überleben. Der Holocaust im galizischen Erdölrevier."
Kurzbiographie    Kurzbiographie Jozef Lipman
Erinnerungen an eine unkindliche Kindheit  Rede in Görlitz 2007
[EN] Józef Lipman, human being: a Jew, who instead of living a beautiful childhood had to fight for his life every day in the German-occupied Borysław, survived the Holocaust. After the war he moved with his parents to Wałbrzych (Waldenburg). He did not return to his native town, which is so closely linked to the memories of the worst experiences, until after 68 years, accompanied by activists of the Action Reconciliation Service for Peace (ARSP/ASF). His touching childhood story then became a topic in the exhibition "A Story of Destruction and Survival. The Holocaust in the Galician Oil Belt".
Short biography  short biography Jozef Lipman
Memories of a lost childhood  speech in Goerlitz 2007
[PL] Józef Lipman, człowiek, Żyd, który zamiast cieszyć się pięknym dzieciństwem musiał w okupowanym przez Niemców Borysławiu, codziennie walczyć o swoje życie, ale przeżył. Po wojnie został wraz z rodzicami przesiedlony do Wałbrzycha. Do miasta urodzenia, które tak mocno łączy się z najstraszniejszymi przeżyciami, wrócił po raz pierwszy dopiero po 68 latach. Towarzyszyli mu w czasie tej wizyty aktywiści z Akcji Znaku Pokuty Służby dla Pokoju (ASF). Jego poruszająca historia wojenna stała się tematem wystawy "Historia Zagłady i przeżycia. Holokaust w Galicyjskim Okręgu Naftowym".
Krótka biografia    Krótka biografia Józefa Lipmana
"Wspomnienia straconego dzieciństwa"    Wystąpienie w Görlitz 2007 r.